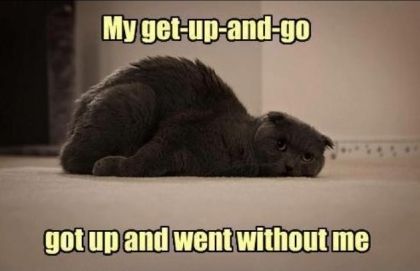 Ever have mornings like this? Yeah, I thought so. And this is how I'm feeling this morning. With the time change, our youngest not sleeping ALL night last night and the non existent comfortable sleeping position for being nearly 7 months pregnant, I am severely dragging this morning. Coffee is my friend this morning...and we may visit twice again today.
In the past, I used to have a really hard time getting anything accomplished on days like this. As in, I would pretty much lay or sit around most of the day and do "just enough" to get by. This is ok to do...if one is sick. But even though the sleep we desperately needed wasn't achieved, we still have to push through and do our work. We need to remember:
"In all the work you are doing, work the best you can. Work as if you were doing it for the Lord, not for people." Colossians 3:23
And having a crummy attitude toward the days work, or worse, toward the people you work with or are around all day, isn't acceptable either.
"and to your service for God, add kindness for your brothers and sisters in Christ; and to this kindness, add love." 2 Peter 1:7
Watch your words...watch how you speak to others. Do your best to keep your attitudes and actions in check. Pray continually for God to give you patience and endurance to make it through the days when you simply don't think you can stay awake past lunch time. He will sustain you. :-)
"Cast thy burden upon the
Lord
, and he shall sustain thee: he shall never suffer the righteous to be moved." Psalm 55:22 KJV
Tomorrow we will begin a new Bible study on Taming The Tongue. It's a good one...and one that just may have you squirming around in your seat a bit as you read it. But trust me, it's worth reading and applying to your life. Hope to see you tomorrow!
Keep in mind when I blog these posts, I'm talking to myself as well as you...so there's no finger pointing. These are things I personally deal with on a daily basis so writing helps keep me accountable for my actions. And I hope that you can gather courage and inspiration from these posts.